The adventure: This weekend is Coptic or Orthodox Easter! I'll be honest, I found this recipe from Eritrea when I was looking for Muslim recipes before the last adventure, so I was THRILLED that the country recognizes both Ramadan AND Orthodox Easter, because I REALLY WANTED TO MAKE THIS CAKE. It has chocolate. It has rum. Is there anything better in life?!?! Lol!
Pre-adventure Jitters: I don't bake cakes. I don't bake bar cookies. I RARELY bake brownies...even though I make a beast of a brownie. Pretty much, if it's not a cheesecake, it's unlikely to have found it's way out of my kitchen. That's part of why I'm challenging myself this year. I feel like I'm in a bit of a rut. I'm really not all that concerned about anything on this recipe...except that I may drink all the rum before the soak. It's been a bit of a week. Haha! Armed with my recipe from Recipes and Foods, the adventure begins.
The Adventure: Oh for the love of Mike...and whomever else you love...I think my brain is fritzing out before my very eyes. Everything was soooo straight forward. I started to measure things out...scanned down the list...read the instructions thoroughly. The directions say to mix the flour and spices, but I couldn't find the flour anywhere on the list. The frustration kicked in massively. I had once again found a less than stellar recipe. My super easy, take a break kind of recipe, was becoming a bit of a bitch. I scanned the ingredients list again...sugar, eggs, salt, cinnamon, cloves. No flour. I abandoned the recipe for the night and started researching chocolate rum cakes recipes and compared the eggs to the flour on each...decided to try again the next evening with 2 cups of flour. So day two, I start down the list, measuring and putting in the bowl, and then I see it. One line that read "2 cups flour pinch of salt". Ugh! It was there all along!!! My brain registered salt and I completely missed it! Like 20 times!!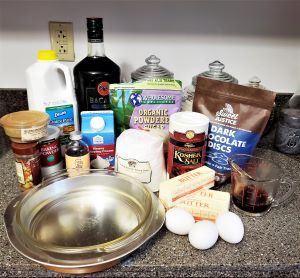 The chocolate and butter get melted in a double boiler. I don't have a double boiler, never have. I've always gone the route of a ceramic bowl on top of my metal sauce pan. Since I needed to move the melted chocolate concoction to the mixing bowl, I decided to skip a step and grabbed my metal mixing bowl, rested it on the pan of boiling water, and it worked like a dream! Mhm...I'm a champ at cutting corners...occasionally it actually works out. :)
Everything mixed together beautifully. The bake went fine. I had to bake the two cakes separately caauuusseee I also don't have two 8" metal cake pans. I have a 9" metal and an 8" glass. Sooo...I did the metal first, then dropped the oven temp 25 degrees for the glass. The glass took about 7 minutes longer, but that's to be expected. My toothpick on both came out nice and clean, so I pulled them out and hoped for the best.
The top was a little crusty, so I grabbed my meat fork and pierced it maybe 10 places...first time I've ever used my big meat fork. It was kinda handy! Haha! The hot rum syrup hits the crusty cake and you can actually hear it making sounds...sort of talking in a way. I can't describe it and I don't know what it was saying...my brain only heard the word Yummm. I let them cool, went back to check annnndddd the centers fell. Dammit. My centers always fall. Maybe next time I should use the cook time of toothpick clean plus two minutes? The top is no longer crusty, but spongey from the rum butter. I'm SUPER EXCITED TO TRY IT!! Whipped the topping, easy peasy and I'm ready to give it a try.
Wow! Just WOW! This cake is spectacular. I have to say, it's super rum-my...like feel the island beat rum-my. The chocolate flavor in the cake is subtle, but the combination of the chocolate, cinnamon, rum, and whipped cream is spectacular. This is a definite successful adventure. One I'll be trying again and again and again. What great luck that I now have one in the freezer for a future date!!
The Recipe - Chocolate Rum Cake with Cinnamon Whipped Cream
Ingredients
For the cake:
4 oz semisweet chocolate, chopped (I used the fair trade baking discs from the shop)
¾ lb (3 sticks) unsalted butter, cut in pieces
¼ c strong brewed coffee
¼ c dark rum
2 c sugar
3 large eggs
2 c flour
pinch salt
1 t ground cinnamon
⅛ t ground cloves
1 t baking powder
½ t baking soda
½ c buttermilk
1 t vanilla
For the Rum Soaking Syrup:
½ c rum
2 T butter
¼ c sugar
For Whipped Cream:
1 t ground cinnamon
1 c heavy cream
¼ c confectioner's sugar
1 t vanilla
2 T dark rum
Instructions
Preheat oven to 350. Butter and flour 2 ‐ 8" round pans.
Combine the flour, spices, salt, baking soda and powder and blend well.
Set aside.
Melt chocolate and butter in the top of a double boiler
When melted, s?r in the rum, coffee, sugar. Stir until the sugar dissolves.
Transfer to a large bowl.
Beat the eggs into the chocolate mixture. Stir in the reserved dry mix. Add the buttermilk and vanilla and mix until combined well and slightly thickened. Pour in prepared pan. Bake about 30 minutes or until a toothpick inserted in the middle comes out clean.
WITHOUT THE SOAKER:
Remove and cool in pan about 20 minutes on a rack.
Then unmold and cool completely.
Top with whipped cream when serving.
WITH THE RUM SOAKER:
Just before the cake is done, heat the rum, sugar, and butter until the sugar and butter melt and all is blended well.
When the cake is done, place it on a rack. Pour the soaker over it (you can poke a few holes in the cake with a fork if you like to facilitate the soak).
Allow the cake to cool. Unmolding may be difficult, so serve slices right from the pan and top with whipped cream.
For the whipped cream: toast cinnamon in a small pan over medium heat until fragrant, 30‐60 seconds. Cool.
Combine cream, sugar, and vanilla and beat to semi‐stiff peaks.
Fold in cinnamon and rum.
The cake freezes well.