This week's adventure:
It's the start of Ramadan! Mhm...that means I had choices upon choices of countries to choose from. And I have to say, it's sooooo much harder to make a decision when you have that many choices! It took me 3 days to decide on a country, then another 2 to decide on a recipe. Yup, I am definitely not known for my quick and efficient decision making abilities. After significant trolling, I just kept coming back to the main recipe, lobster with vanilla. I'm completely intrigued on what the vanilla does to the lobster. The same is true with the Mkatra Foutra. Some places call it a bread, some call it a pancake, It uses coconut milk, and I love me some coconut, so I'm just hoping it's delicious.
Pre-adventure Jitters: I have been warned. The commentary on the bread was similar to my own commentary last adventure with the flan. Evidently the recipe is a bit of a trainwreck. I've looked around for other recipes, but every single one is written the same. You know how a recipe travels from one kitchen to the next? This one has also made the rounds, just maybe not in a good way. Sooo...armed with the recipe from the Foreign Fork, I'm braced for a second failure in a row...let's get this adventure started.
The Adventure: Every single adventure, I end up with one ingredient that feels like I'm searching for the Holy Grail. Seriously. It shouldn't be this hard! This weeks nightmare involved bean sprouts. The recipe actually calls for clover sprouts, but we all know that's not going to happen. Bean sprouts or alfalfa sprouts are an easy swap out. You would think that's a simple thing to locate, right? I mean, we're all supposed to be focused on eating more healthy, right? RIGHT?!?! Alas, but no. it took four stops, 2 hours of my life, and I had to settle for microgreens. I didn't even know those were a thing. But they're tiny and sprouty, so we're gonna make it work.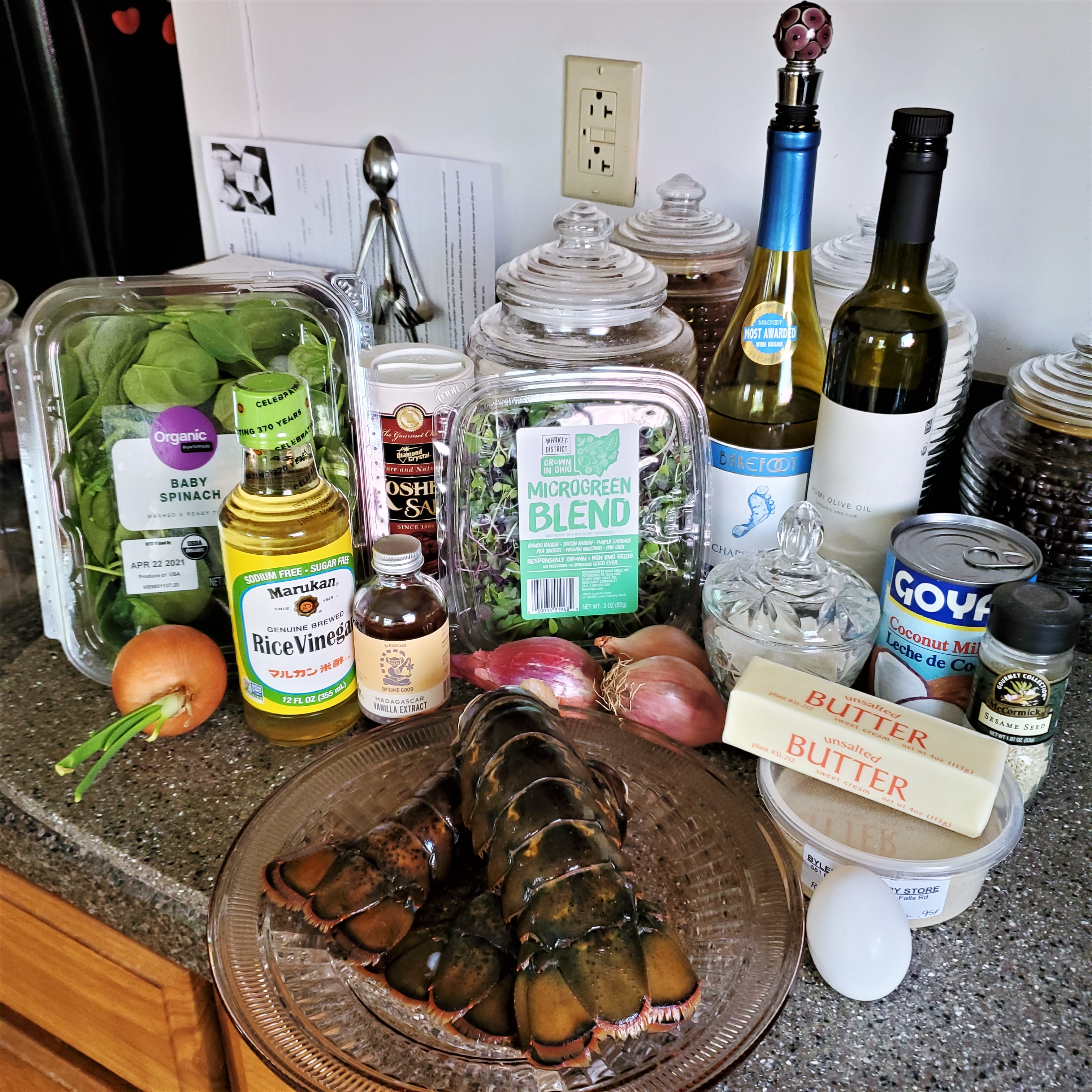 The lobster sauce was a dream to make. Time consuming, but incredibly easy. I subbed rice wine vinegar for white wine vinegar, since I already had it and they're similar in flavor profile. I also swapped in 1/2 tablespoon of vanilla instead of scraping a vanilla bean, cause seriously...between the bean cutting and scraping, you could lop off a digit and I love all my fingers just as they are. I also didn't do the whole live lobster thing. I bought some tails. Chuck 'em in boiling water for 4 to 5 minutes and you're good to go. The cooked spinach and onion was also incredibly easy...almost thoughtless. That made up for the train wreck known as the bread.
Where to begin with the bread. The mixing up was easy. Popped it in a bowl, covered with a towel in a warm, dark place as noted. At the end of the sit time (I went for the full hour), I tried to pull off the towel and ran into hurdle number one. With a traditional bread dough, there's limited stick, so it's no big deal. This stuff? Holy hell. It's like The Blob and Slime had a love child. The dough seeped into the towel and wasn't budging. Soooo I had no choice. I pulled off the towel like you'd rip off a bandaid and lost the top 1/4". Dipped the 1/3 measuring cup into the ooze and poured it into the fry pan. Have you ever dumped Slime into a fry pan? I hadn't, until tonight. Needless to say, the first go at the fry bread was a bust. The dough was too thick. I didn't have the heat up high enough. I flipped it too soon. The second one was perfect, though. It was a beautiful lightly toasted piece of coconut goo.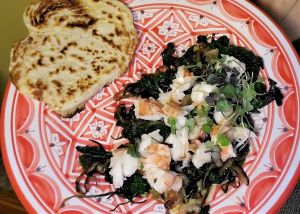 Got the layers plated as described and dug right in. The cooked spinach and onion tasted like cooked spinach and onion. The bread was like a bland pancake. The lobster with sauce? Shut the front door...it was amazing! The combination of the scallions, butter, and vanilla absolutely danced on my tongue. If I were to go about this again, I'd skip the spinach, skip the bread, and triple down on the sauce. There's sooo much scallion in the pan I could easily throw in more wine, more vinegar, more butter. Make myself a nice big pan of that delicious nectar of the gods and slather it on lobster, crab, shrimp, and anything else I can think of. I call this a successful adventure.
The Recipe - Langouste a la Vanille (from nationalfoods)
lobster tails (total weight 2-1/2 to 3 lbs)
1/2 vanilla bean (sliced lengthwise)
3/4 lb tender spinach (stems removed)
1 TBSP olive oil
1/4 cup white wine
3 medium shallots (peeled and finely diced)
7 TBSP & 2 tsp unsalted butter
1-1/2 tbsp white wine vinegar
1 vidalia onion sliced
kosher salt to taste
black pepper to taste
clover sprouts
Fill large pot with salted pot and heat to boiling. Pan needs to be large enough to fit lobster tails.
Carefully drop in lobster tails. Bring water back to boil. Cook 4-6 minutes depending on size until lobster is bright red. Take out of the water and cover in foil to keep warm.
Melt two teaspoons of unsalted butter in a saucepan.
Sauté the shallots in the butter for about three minutes until soft.
Pour in the wine and vinegar.
Cook on medium high heat for about five minutes
Turn off the stove when the liquid has been reduced to about a tablespoon.
Stir in six tablespoons of butter, one at a time
Prod the seeds out of the halved vanilla bean and add to the sauce
Strain the sauce into a clean saucepan, and discard the diced shallots
Season the sauce with a sprinkle of salt and black pepper. Set aside.
Remove the meat from the lobster tails.
Chop the meat into ¼ inch chunks and place the meat chunks into a container and re-cover with aluminum foil to keep warm
Melt a tablespoon of butter in a pan and sauté the spinach and onions. Cook until the spinach is tender.
Season with salt and pepper
Arrange the greens onto the serving dish, and then place the warm lobster on top of it.
Reheat the sauce and pour it over the lobster.
Garnish with tender clover sprouts and serve.