This week's adventure:
I needed a plan. I mean, I'm committed to kitchen adventuring over the next who knows how many months. But what do I cook? What countries do I choose and how? I can literally pour over my recipe books for weeks and never make up my mind, because it ALL looks so yummy. So to have any hope of completing one recipe, let alone 80, I needed a good plan of attack. And then it came to me. I started with fastnachts, because of the holiday, Shrove Tuesday. On any given day, there's a holiday somewhere in the world, so I'm letting the holidays dictate my adventure...to some degree. This adventure is taking place on March 1. While there are several holidays happening today, in South Korea they're celebrating a national holiday, Independence Movement Day. So after investigating three different possible countries for this week, the country decision was a pretty easy one. The meal itself, was a bit trickier...cause there are SOOOO many choices, but eventually I made my choice...Pa'chon, a savory crispy pancake
Pre-adventure Jitters: Soooo...I'm gonna be honest. I'm a little bit scared of this one. I almost chose a simple shrimp fired rice...cause it's simple...and it's fried rice. But that's not my intent with this little project. This isn't Around the World in 80 Kitchen Underachievements. It's supposed to be an adventure. The joy, almost therapy, for me is the challenge of something new. In looking through my books, every Korean section had a pancake recipe. This is a thing. So to not attempt the pancake because I'm scared of it, goes against everything I'm trying to achieve personally. But, I'm not a good traditional pancake maker...at all. The first one is almost always burned, the flip gets messy, and my furbaby, Cleo, inevitably gets one in her dish that just didn't go well. And that's a small pancake. This is a full fry pan size, so it DOES NOT BODE WELL. But I'm gonna give it a go. My expectations are low, and I have leftovers in the fridge...just in case. So the original recipe comes from World Vegetarian by Madhur Jaffrey and calls for mushrooms. I don't do mushrooms. And we're not talking about them being a soft no...it's a big ole NOPE. I mean, I'll eat mushrooms on a pizza...as long as they're marinated (not fresh) and cut up into pieces no bigger than 1/4" square. So basically, if it's recognizable as a mushroom in flavor, texture, or shape, it's gonna get picked out and pushed to the side of my plate. The great news on that little maneuver is that Cleo LOVES cooked mushrooms, so she gets a special little treat when I'm done. In light of the mushroom gag factor, I needed to find an alternative. I did a little research and discovered there are a multitude of veggie options I could swap out. So rather than the original listing of mushrooms, red peppers, and green peppers, I've shifted more to my personal tastes and decided to work with a small yellow squash (like, on the tiny side of small), green pepper, and carrots. (As a sidenote: my green pepper came out of the freezer. I buy a ton of green and red peppers as well as tomatoes during the fresh veggie season when they're ridiculously cheap. I cut everything in half and core, then toss in zip lock freezer bags for the winter. It saves a bunch of money and lets me make fresh spaghetti sauce in January...and who doesn't love that)
The Adventure: I used to always snicker at the cooking shows. You know, the drilling of the professional chefs to have the mise en place set up prior to cooking. And now here I am, getting all my ingredients together, prewashed, precut, and ready to go before ever turning on the heat. This is soooo not me. I'm typically cutting while watching the frying pan, digging in the fridge while whatever is in there starts burning, then disappointed when meals don't come out quite right. I decided I needed all the help I can get for some of these to work, so I'm mise en placing like a trooper. It makes SUCH a big difference. Seriously. HUGE.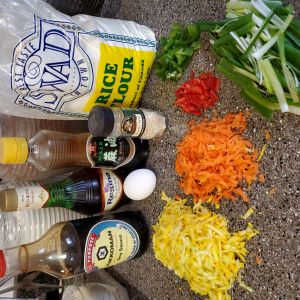 So the prep was easy...the batter a dream to mix...assembly in the frying pan uneventful...and theeennnn just as I was feeling all proud of myself for slaying the pancake, it was time for the first flip. That first flip is a bitch. No joke. I had pancake bits flying all over the place. I even tried the plate over the top of the pan to flip and slide and it was a catastrophe...as you can see by my plated dish. As I ate my little bits, though, I fell in love with the Korean pancake. My second one went better...the third was literally a piece of cake. So here's the trick. DO NOT BE FOOLED BY THE EDGES. My spatula slid right under the edges like nothing, so I thought it would flip just fine. That center was stuck like glue...which is why my first pancake ruptured. Starting with the second, I slid a metal spatula under every square inch to make sure it was released...lifted the edge with a wide spatula and tipped the frying pan, pulling the pancake out. At the moment that I had the pancake almost on its edge at the outer ring of the pan, I flipped it over. It takes a moment to figure out the pull and flip, but once you get the knack for it, it makes the flip so less intimidating. And it's soooo worth it. Seriously. These pancakes are spectacular. You can swap out your veggies, add some shrimp or pork if you want a little meat. It's up to you completely, which is my favorite kind of recipe. This adventure was definitely a success!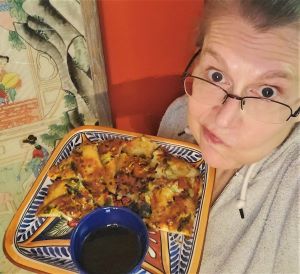 The Recipe - South Korean Pa'chon (Crispy Rice Pancake)
3/4 cup unbleached all purpose white flour
3/4 cup rice flour
salt
1 egg, beaten
1 tablespoon oriental sesame oil
6 tablespoons peanut or canola oil
1 baby yellow squash, shredded
1 large carrot, peeled and shredded
1/3 large green pepper (about 2 ounces), cut into fine long slivers and then halved lengthwise
1 fresh hot red or green chile, cut into fine long slivers (optional)
3 scallions, quartered lengthwise and then cut into 2-inch segments
1-1/2 teaspoon sesame seeds
For the dipping sauce
6 tablespoons soy sauce
2 tablespoons red wine vinegar
1 tablespoon oriental sesame oil
Put the 2 flours in a bowl. Slowly add up to 1-1/2 cups of water (you will probably need less) to make a batter that is like flowing cream. Add 3/4 teaspoon salt, the egg, and sesame oil. Beat to mix and set aside for 30 minutes (or longer in the refrigerator).
To make the pancakes, put 3 tablespoons of the peanut oil in a large frying pan and set over medium heat. When hot, put in the squash, carrot, green pepper, hot chile, and scallions. Stir fry for 1 minute, or until scallion is slightly wilted. Sprinkle very lightly with salt and mix quickly. Now remove the vegetable mixture and turn the heat to medium-low. Put in another tablespoon of oil and spread 1/2 teaspoon sesame seeds in the center of the pan in an 8-inch circle. Arrange 1/3 of the vegetable mixture over the sesame seeds. Stir the batter and pour 1/3 of it over the vegetables to form an 8-inch pancake. Cover and cook on medium-low heat for 5 to 6 minutes, or until the bottom is somewhat golden.
Using a big spatula, turn the pancake over and cook the second side, covered, for another 4 minutes. Uncover, turn the pancake over, and cook 2 minutes. Turn again and cook, uncovered, another minute or so. Remove the pancake. Cut into wedges or square and serve hot with the dipping sauce. (To make the sauce, combine all the ingredients.) Make the second and third pancakes the same way, adding a tablespoon of oil to the pan for each.
Makes 3 large pancakes, each serving 2 to 6