This week's adventure: So did you know that the Queen celebrates her birthday twice? There's the official date, April 21, and then the national celebration the 2nd Saturday in June that's combined with The Trooping of the Colour parade. This double birthday celebration has been practiced by the residing monarch since 1748. Soooo Happy Birthday Queen Elizabeth...again.
I'm gonna be honest. English cuisine doesn't thrill me. It tends to be a little bland...a little heavy...a few too many internal organs...a little too much like what I grew up eating. I love cooking adventures mostly because I like nontraditional on my plate. I enjoy different flavors...the spicy, the tangy, the what the heck is going on in my mouth. But there's one British dish I have always been intrigued by: the beef wellington. I've watched numerous episodes of kitchen shows where the challenge has been that tricky wellington...and numerous failures of said dish. So, we're going to give this a go.
Pre-adventure Jitters: Have you seen what goes into a beef wellington? There's the searing, the wrapping, the chilling, the wrapping again, the chilling again, the cooking at just the right temp so it's juicy inside, but not dry...dry outside, but not soggy. It's a hard dish to get the timing just right. But my number one fear on attempting this dish? One word...pâté. Liver makes me gag...on every level. There's the about to eat liver gag trigger. The smell gag trigger. The moment it hits my taste buds gag trigger. It's not a good scene. But a true beef wellington always has pâté. I feel I need to at least try to make the dish as authentic as possible. So...armed with the recipe from Serious Eats, and an anticipatory nauseous feeling, the adventure begins.
The Adventure: First let me just say, the original recipe calls for foie gras. That's a hard no. I've seen the videos on what happens to those ducks and at no point in my life will foie gras knowingly pass over my lips. Nope. Nope. NOOOO. So I've automatically subbed in traditional pate. (mental gag)
I already know from the mushroom listing that this is a Giant Eagle run. The smaller stores are more affordable, but they won't have the selection I need. I make my list, cruise through the store in a quick and orderly fashion, then get to the last two ingredients...the tenderloin and pâté. (mhm...just gagged again) No pate at the deli counter, none in the prepacked section, none at the meat section that I can find, so I ask. THEY DON'T SELL IT!!! WHOO HOOO! If Giant Eagle doesn't have it, it will not be found. I feel like the universe is smiling on me because now I can make my wellington without the yucky liver. I'm nothing but excited about this adventure...the gag factor is gone.
I move on to the tenderloin and look at the price. Shhiiiiitttt. It's expensive!! I google "substitutes for tenderloin in beef wellington". Annnddd you can't sub it. Article after article discusses the urge to swap in a cheaper cut, and the huge mistake you'd make by doing so. It HAS to be a nice lean cut of meat. Sooo I ask for my tenderloin (there aren't any cuts in the case) annnddd the butcher is on break. (sigh) Looks like my "get it all taken care of on Sunday" plan is a bust. I can't make beef wellington without the beef!
Monday morning...I scamper first thing to the local butcher shop...Garrett's Meats. They aren't the biggest shop in town...that's Whiting's...but Whiting's is closed Sunday / Monday. Garrett's has excellent meat as well, but a good bit of it is frozen, so if the meat needs defrosted, I need to get on it right away. Not only do they have my cut of meat fresh...but its $7 a pound cheaper than Giant Eagle!!! Note to self, plan ahead a little bit better and get my meat local. every. damn. time.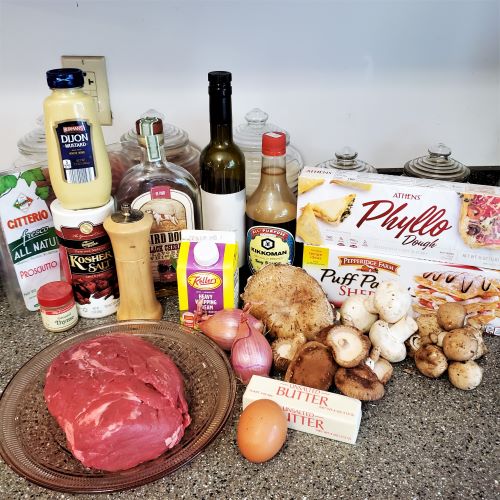 Okey dokey...here we go. Cut the few fatty bits off my loin, grab my silicone meat tie, annndddd it's too short. Dammit. I don't have any butcher twine, so I run down to the basement to see what I can rummage. I find a spool of string and decide to give it a go. It's not the cleanest, and it's burgundy, so there's a very real possibility I'm about to consume some FD&C Scary that leaches out, BUT I grew up in the country. My mom used to tell tales of me eating all sorts of freaky stuff as a toddler, so I'm guessing I've eaten worse in my life. It's a risk I'm willing to take.
I turn on the overhead fan, bring my cast iron skillet up to smoking, and sear the crap out of my meat. Set it on a plate to rest and look around to see what my pup is doing annnddd I can't see clearly. My fan is a total underachiever because the ENTIRE HOUSE IS FILLED WITH SMOKE!! I quickly run through opening windows, cause the last thing I need is a neighbor calling the fire department. That would be a serious bummer.
Now for the mushroom concoction. Choppety chop in the food processor, toss it in a pan and saute. Add some whiskey and saute some more. Drink some whisky and keep stirring. Add the cream and soy sauce and saute yet again annddd we're done. That was a breeze! I put everything in the fridge to chill, and brace myself for the tricky part...the roll.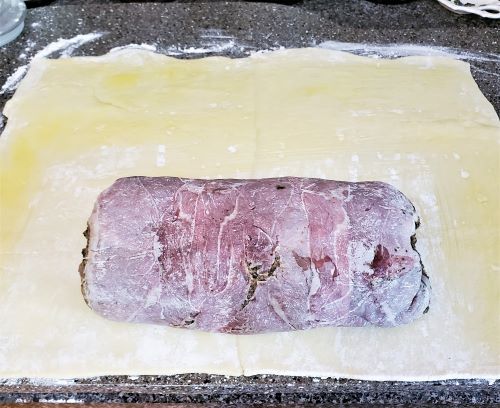 For the record, phyllo dough is a bitch. I couldn't get a single sheet peeled off for the life of me. I ended up grabbing two. One...two...what the hell. Close enough. Layer down the prosciutto, slather on the mushroom sludge, and start to roll. It says to roll tightly so I press down a little and start rolling. Annnddd the mushroom oozes out the sides and pushes off the end. Fabulous. Get to the end only to discover the phyllo wasn't long enough. (sigh) Dammit. That's probably gonna bite me in the butt. Stick it back in the fridge. Press out my puff pastry, roll it up for the last time and tuck in my ends, and back in the fridge one last time. Once it's nice and chilled I finish it up, toss it in the oven, and hope for the best.
The moment of truth arrives. It looks nice and golden on the outside, but I'm nervous to see what happened inside. I slice it down annddd the mushroom mush at the end DID bite me in the ass! There's a mushroomy pocket where it wasn't restrained by the phyllo. Noooooo! Why you gotta do me like that, Wellington? I cut in, take my first bite, annnddd I can't believe what I'm tasting. This is one of the top 5 meals I've eaten IN MY LIFE! The combination of the mushroom, the steak that melts in your mouth, with the puff pastry is divine. Not only was this adventure a success but this just might be my new Christmas Day tradition. I can't wait until my next adventure!!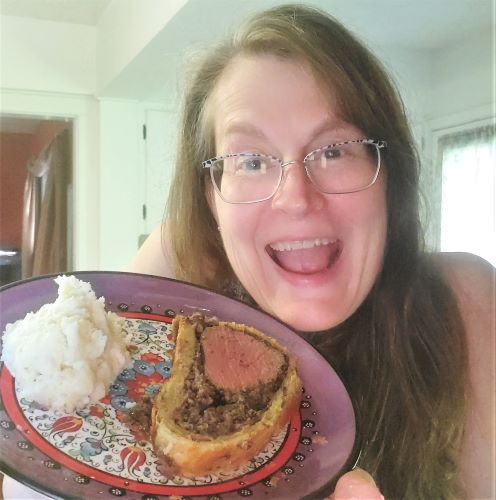 The Recipe - Beef Wellington
Ingredients:
1 center-cut beef tenderloin, trimmed of silverskin and fat, about 2 pounds
Kosher salt and freshly ground black pepper
2 tablespoons plus 1/2 teaspoon vegetable or canola oil, divided
1 tablespoon dijon, spicy brown, or hot English mustard
1 pound mushrooms (button, cremini, shiitake, portabello, or a mix) cleaned, trimmed, and roughly chopped
4 tablespoons unsalted butter
2 medium shallots, finely sliced (about 1/2 cup)
2 teaspoons finely minced fresh thyme leaves
1/2 cup cognac or other brandy or barrel-aged spirit such as bourbon
1/2 cup heavy cream
2 teaspoons soy sauce
1 sheet phyllo dough
1/4 pound prosciutto, sliced paper thin
Flour for dusting
14 ounces frozen puff pastry, thawed
1 egg, beaten
Coarse sea salt, such as Maldon or fleur de sel
1 bunch finely minced chives
Using butcher's twine, tie tenderloin at 1-inch intervals. Trim ends of twine. Season liberally with salt and pepper.


Heat 2 tablespoons oil in a cast iron or stainless steel skillet over high heat until smoking. Add tenderloin and cook without moving until well-browned on first side, about 2 minutes. Rotate tenderloin and continue cooking until browned on all sides, including ends, about 10 minutes total. Transfer to a large plate.
Combine mustard, and 1 teaspoon black pepper in a small bowl. When tenderloin is cool enough to handle, cut off and discard twine, then rub on all surfaces with mustard mixture. Place in refrigerator, uncovered.
Place half the mushrooms in the bowl of a food processor and pulse until very finely chopped, scraping down sides and redistributing mushrooms with spatula as necessary, about 10 short pulses. Transfer to a bowl. Repeat with remaining mushrooms.
Heat butter in a 12-inch skillet over medium-high heat until melted. Add mushrooms and cook, stirring occasionally, until mushrooms have exuded all their liquid and start to sizzle, about 8 minutes. Continue cooking until mushrooms begin to brown and leave browned bits stuck to bottom of pan, about 4 minutes longer. Add shallots and thyme and cook, stirring frequently, until softened, about 2 minutes.
Add brandy. Scrape bottom of skillet with a silicone spatula or wooden spoon to release browned bits. Continue to cook until brandy is nearly dry, about 4 minutes. Add heavy cream and soy sauce and continue to cook, stirring frequently until mixture is thick and collects in one large mass when you shake the skillet. Season to taste with salt and pepper. Transfer to a bowl and place in the refrigerator.
Lay a double layer of plastic wrap about 2 feet long and 1 food wide on your cutting board. Lay phyllo dough on top of plastic wrap. Shingle prosciutto on top of phyllo to create a thin, even, overlapping layer, leaving a 2-inch border along the bottom and top of the phyllo dough. Spread mushroom mixture evenly over ham layer.
Place tenderloin along the very bottom edge of the ham/mushroom layer. Carefully roll tenderloin in mushroom, ham, and phyllo, using the plastic wrap to help tighten it as you roll. Once beef is completely rolled up, re-wrap with more plastic wrap, twisting the ends to make sure roll is very tight. Return to refrigerator.
Dust board or countertop lightly with flour. Spread puff pastry on board and, using a rolling pin, roll it into a rectangle at least 4-inches wider than the beef roll on its shorter side.
Unwrap beef roll and place along very bottom edge of puff pastry. Brush 6 inches of puff pastry just above beef roll with beaten egg. Carefully roll the beef in the puff pastry until it is completely wrapped. You should end up with the puff pastry seam meeting on the bottom. Trim pastry with a sharp knife.
Fold sides of puff pastry protruding from either end of the beef roll towards the center, then fold the top flaps down. Trim off the bottom flaps carefully.
Roll entire beef roll over so that the bottom is facing up, then fold up the end flaps to seal completely. Roll beef back right-side up. Transfer to a plate and chill for at least 30 minutes.
Adjust oven rack to center position and preheat oven to 425°F (218°C). Transfer Wellington to a foil-lined baking sheet and brush all over with beaten egg. Use a sharp paring knife to score a decorative pattern in the pastry. Sprinkle liberally with coarse sea salt. Bake until pastry is golden brown and center of roast registers 110°F (43°C)for rare or 120°F (49°C) for medium-rare on an instant-read thermometer, 35 to 45 minutes. Remove from oven and allow to rest for ten minutes.
Use a thin metal spatula to loosen Wellington from foil, then carefully transfer to a carving board. Slice off the ends with a sharp knife. Carve Wellington, sprinkle cut surfaces with chives and more coarse salt, and serve.
To best store leftovers, slice the remaining wellington and wrap each piece individually in plastic wrap. Keep on their side in the fridge. To reheat, place on a piece of parchment paper on a baking sheet and heat at 250 degrees for 12-15 minutes.