This week's adventure: Tuesday of last week was Lord Buddha's Parinirvana in Bhutan. I'm not very familiar with Buddhist holidays, but from what I've been reading, this is one of the most important ones, or, as it's referred to, a very auspicious day. It was on this day Buddha was conceived, born, and subdued evil, gained enlightenment and attained Nirvana. Being a very auspicious day and all, I thought this would a great opportunity to celebrate the Bhutanese culture. I found dozens of wonderful looking recipes, but I've been wanting to make dumplings for years, so I'm embracing the adventure. I can't decide between vegetarian or meat, so I'm attempting both...Steamed Momo Dumplings and Hirshon Boiled Dumplings.
Pre-adventure Jitters: One word... dumplings. As I said, I've been wanting to make dumplings for YEARS. I've never met a dumpling I didn't like, and they've always been a "go to" on busy days. Grab some out of the freezer, cook 'em up, and dinner's ready in 10 minutes or less. Can you imagine how many meals a week I could enjoy if I could make them myself?!? If I don't need to plan excursions to the Asian Market to restock my little lovelies? My love affair with dumplings aside, they scare the bejeebers out of me. So much can go wrong. I can under stuff the wrapper, over stuff the wrapper, tear the wrapper, not get the wrapper sealed so the stuffing oozes out everywhere. So so very much can go wrong, that I've never actually tried to make them up until now. But here I am, armed with the Momo recipe from Food and the Hirshon recipe from The Food Dictator, the adventure begins.
The Adventure: Oy. I just. can't. help. myself. Few swap outs on the meat dumplings (momos). Yak meat in Western PA on a tight timeline just isn't going to happen. I've swapped it out for bison, since the meats are so similar. The state store didn't have any Chinese wine, but a Google search while in the store told me it's a rice wine, or sake, and that they have! Gotta say, the employees at the local state store have been fantastic. They field my frequently bizarre questions like a champ. I'm set on recipe number one.
The veggie dumpling (hirshon) is up next. Hot paprika is listed in the recipe for a chili powder swap. 60 grams of sesame seeds...Google again for a conversion. Holy shit! That's a half a cup! My little spice jar remnants from 1998 aren't gonna cut it. Coriander is the same as cilantro. I still have the remnants from the last adventure. It's a little wilty, with a few brown leaves, but it'll work. Last possible Where's Waldo moment is the Szechuan peppercorns. Probably an easy swap for black peppercorns, right? I Google search it, just to be sure annnddd no. It's a specialty ingredient. (Siiiggghhhh) They're the seed husks of the prickly ash shrub grown primarily in China and Taiwan. They produce a tingling sensation in your mouth, but not the heat of something like a chili pepper. Sooooo off to the grocery store I go. (Please have the peppercorns. Please have the peppercorns.) Anndddd NO. They DID have Timut peppercorns, though, and after YET ANOTHER GOOGLE SEARCH, I learned they're very similar. They're more citrusy, but still tingley, so it's a go. I can't imagine trying this all without a smartphone handy. It's been a lifesaver this adventure.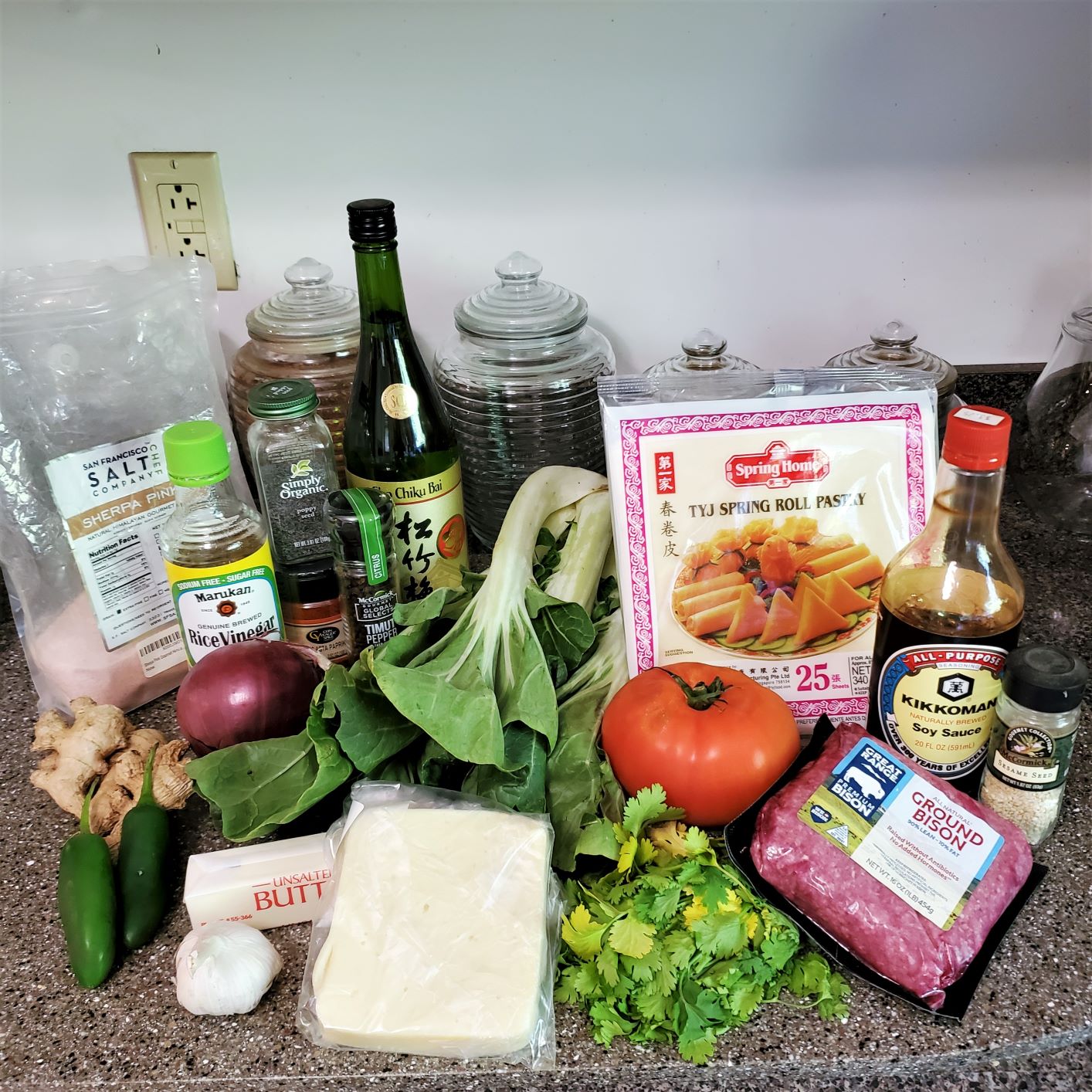 Day #1: So I start with the filling for the meat dumpling. I take a swig of sake straight from the bottle to taste it. (Seriously...like you all haven't been tempted to do the same.) It was nothing exciting, but nothing offensive either. Just an ordinary uneventful wine with just a hint of rice. I take another swig, just to be sure, and put the remnants of the bottle in the fridge. The filling goes together beautifully and I set it to the side while I work on the dipping sauce.
I'm not buying chili oil for 1 tsp and found an easy recipe for making your own. I heat up about a tablespoon of peanut oil, toss in a handful of the spice from one of the grinders from the shop...chili, black pepper, and dried ginger. The ginger instantly heats up, pops like kernels of popcorn, and SHOOTS ACROSS THE ROOM!!! Dude. Seriously. It's all fun and games until someone loses an eye. I turn off the heat and decide let it sit overnight before straining. I'm not touching that beast until it cools off completely.
I move on to the filling for the veggie dumplings. It all looks incredibly straight forward and easy. I need to "pulverize" the Timut peppercorns and poppy seeds. It suggests a coffee grinder. My coffee grinder is part of my coffee maker, and I'm here to tell you, those peppercorns aren't getting anywhere close to my coffee maker. I like a little buzz in the morning, but I'm not up for the lip tingling sensation. Soooo I throw them in my pepper grinder and start manually grinding. It takes an hour. AN HOUR!!! I'm really starting to regret my recipe choices.
I toss my stick of butter into a small saute pan. It just begins to get all melty, when suddenly it explodes like a geyser at a hot spring. Ah hahahahaha! What the hell. I need a hazmat suit for this adventure. If the projectile ginger doesn't get me, the butter will. I keep the saute pan moving in a swirl pattern until the butter is brown. While my pup, Cleo, was THRILLED to lick the butter off the floor, I am not a fan. But I finish the filling and stick it in the fridge.
Day #2: Annddd here we go. The part I've been dreading...the making of the dumplings. It's actually surprisingly easy once I find my groove. The first couple wrappers needed tossed, cause it ended up all kinds of a nasty, but once I got it figured out, I could totally crank out the dumplings. Put the meat in the steamer as instructed, the veggie in the fry pan to boil and wait.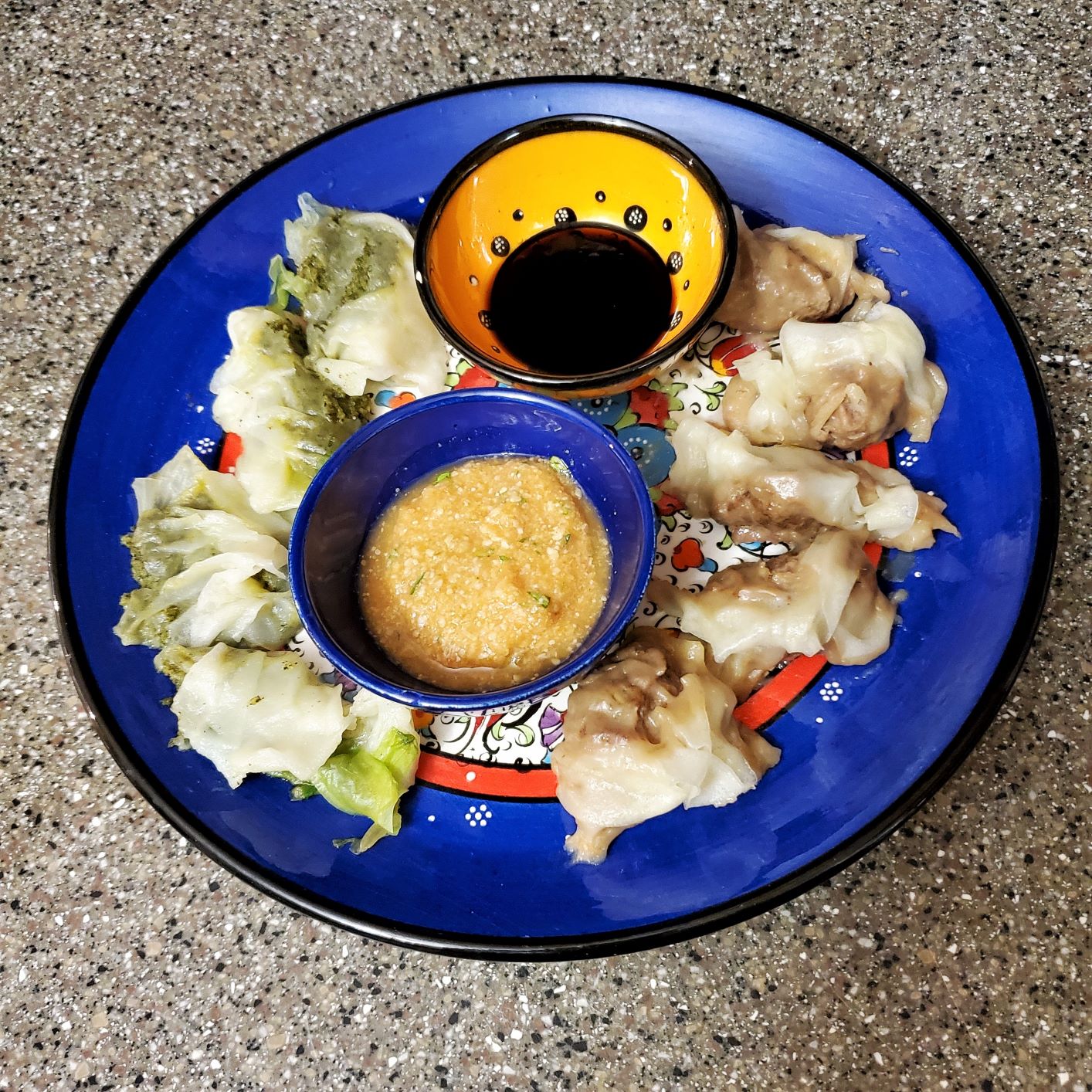 The moment of truth arrives and I lift off my lids. Meat dumplings look okay...not great. They're a bit soggy. The veggie ones are a disaster. It's a massive soupy mess. Not a dumpling in sight. (Siggghhh). I grab another handful of wrappers and start over. I steam them this time. The filling STILL eats through it, but at least they're edible so I plate what I've got and give it all a taste. After all that work, how'd it all taste? Well, out of a scale of 1 to 10, I'd give it a about a 3. This adventure just didn't come out well. It was a combination of hard recipes, bad luck, and less than super yummy flavors.
The Continuing Saga: On a lark, tonight, I rolled up some of the veggie mixture like a spring roll and threw it in the air fryer for 10 minutes. It worked much much better. The filling still ate through the ends, which makes me wonder what the hell it's doing to my stomach, but it was enough that I could finally taste the flavor as it was intended. It still didn't blow my socks off with deliciousness, but I feel a sense of accomplishment having found a way that the filling and the wrappers work together. We're officially closing the book on this adventure and moving on.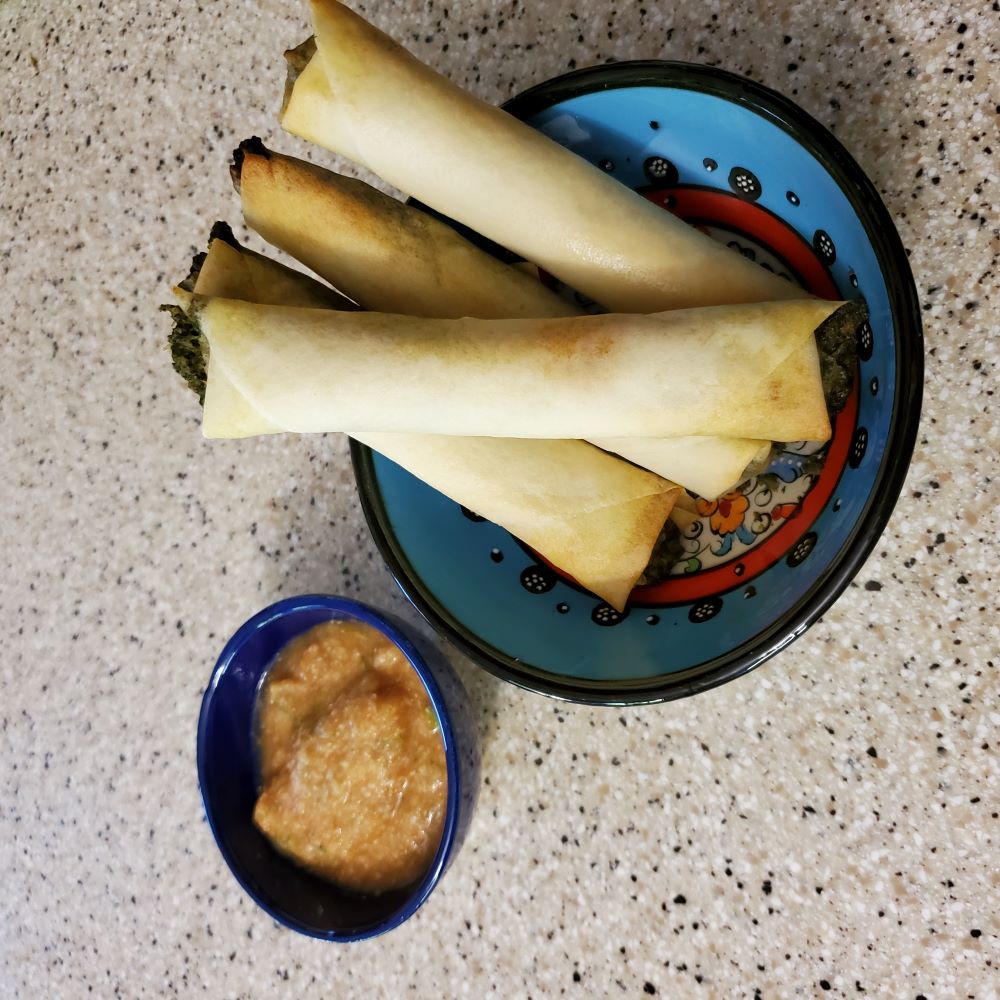 The Recipe - Steamed Momo Dumplings
Dumplings:
1⁄2 lb yak meat or 1/2 lb beef, ground
1⁄2 onion, finely chopped
3 garlic cloves, finely minced
1 ounce Chinese wine (xiaoshing)
2 teaspoons flour
2 teaspoons soy sauce
1 jalapeno pepper, seeds removed, finely minced
1 (12 ounce) package wonton wrappers
1 few large lettuce or 1 cabbage leaf
Dipping Sauce:
1⁄4 cup soy sauce
1⁄4 cup rice wine vinegar
1 teaspoon chili oil
With your hands, thoroughly mix the ground meat with the onion, garlic, xiaoshing, flour, soy sauce and jalapeno.
Lay out a few of the wonton wrappers and spoon a small amount of the filling into the center of each.
Fold the wonton wrapper in two and then pinch the edges to make a tight seal.
Line your steamer basket with the cabbage or lettuce leaves.
Add the dumplings (don't let them overlap) and steam for 30 minutes.
Meanwhile, mix the dipping sauce ingredients.
Serve the dumplings hot with the dipping sauce.
The Recipe - Hirshon Boiled Dumplings
Dumplings:
1 large head bok choy [about 1 pound, 450g], stem removed and quartered
3 tablespoons poppy seeds
½ teaspoon Chinese Szechuan peppercorns
2 medium garlic cloves [6g], peeled
fresh ginger, peeled and cut into a ¾-inch [2cm] cube
1 small red onion [about 2 ounces, 55g], peeled and quartered
½ cup crumbled farmer cheese [about 3 ounces, 85g]
1 teaspoon mild Kasmiri chili powder or hot paprika
¼ teaspoon finely ground Pink Himalayan salt
1 stick unsalted butter [4 ounces, 110g]
1 (12 ounce) package wonton wrappers
Dipping Sauce:
1 large tomato, roughly chopped and cooked until soft
1 small red or green chili (seeds removed if desired)
60 grams toasted sesame seeds
2 Tablespoons chopped coriander
20 grams fresh ginger
To make the filling, cook the bok choy in a saucepan of boiling water for 5 minutes. Drain and squeeze dry.
Pulverize the poppy seeds and peppercorns with a spice or coffee grinder.
Drop the garlic and ginger through the feed tube of a food processor with the metal blade in place and the motor running and chop finely, about 5 seconds.
Add the onion and chop finely, about 10 seconds. Add the bok choy, poppy seed mixture, cheese, chili powder, and salt and process until combined, about 10 seconds.
Brown the butter in a skillet over medium-high heat, stirring, about 4 minutes. Cool and strain through a sieve lined with cheesecloth. Add to the filling and process until combined, about 15 seconds.
Place 1 teaspoon of the filling in the center of each rectangle. Brush the edges lightly with water and fold the rectangles over to make squares, pressing the edges to seal them well.
Cook the dumplings in batches in a saucepan of simmering water until tender, 7 to 8 minutes. Transfer to paper towels to drain.
Sauce Directions:
Chop tomatoes and cook with a pinch of salt and the finely chopped chili until very soft. Puree mixture until smooth.
Peel, then finely mince or and pound ginger. Add to tomato mixture. Grind the sesame seeds either in a mortar and pestle or with a blender/food processor.
Stir together the ground sesame seeds, tomato mixture and chopped coriander. Set aside until needed.
Note: If you desire an extra spicy dipping sauce, grind a fresh chili with water and add to the dipping sauce.