The adventure: Next week is Ascension Day in Colombia, a Christian holiday, so I'm back in the Western hemisphere for the next adventure. I made the decision to select an easy recipe this go round, because I'm also in the thick of preparations for a national holiday in the States that falls on May 17th this year...Income Tax Due Day. Haha! Mhm...I do my own taxes. My mom always did her own, and taught me to do them as well, so it's just one of those ordinary things in life for me. Granted, it can get a bit involved with the business, but as long as I'm careful on my prep work, it's just time and little to no frustration. Soooo needing an easy but enjoyable adventure this week, I'll be making Sudado con Pollo with Arroz con Coco OR chicken stew with coconut rice.
Pre-adventure Jitters: None. I'm jitterless. I mean, I'm a little freaked out about the meat cutting. I had to buy frozen legs that need cleavered apart, so there's that obstacle. I'm truly awful at the meat cutting thing. Truly. AWWWFFUULLL. Maybe by the time I hit adventure #80 my meat won't look like it got tossed in the food processor first, but I'm not holding my breath. Armed with my cleaver, a sudden urge to watch a slasher flick, and my recipes from Insanely Good Recipes, the adventure begins.
The Adventure: Bought my meat at a local butcher, Garrett Meats, so I needed to adjust from 8 drumsticks to 4 complete legs. Annddd they were all frozen together, so the defrost was another little speedbump. But feeling confident in my choice for an eventless adventure, I started down the ingredients to pull together my shopping list. And then I saw it...Goya sazon con azafran. (siggghhhhh) Dammit.
Alrighty. I am NOT traipsing all over creation on another twisted version of Where's Waldo, foodie edition. Not happening. I google it. Review after review calls this stuff the greatest thing since sliced bread, so I start to have second thoughts. Maybe it's worth the trekking. Maybe I need to delay a bit and buy it online if I can't find it. And then I see the ingredients: MSG, salt, dehydrated garlic, cumin, yellow 5, tricalcium phosphate (anti-caking agent), annato (color), Mexican saffron, turmeric (color), red 40. Awww helllll no! No. And in case I haven't been clear as of yet...NO. I have the salt, dehydrated garlic, cumin, saffron, and turmeric in my pantry. I'm Frankensteining it.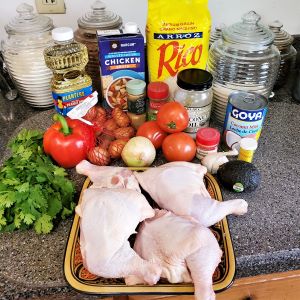 The notes on the coconut rice says it takes over an hour just to boil down the coconut milk. OVER AN HOUR!!! This better be the best thing since sliced bread, I'm here to say. I get a little cranky when I put in that kind of time and it takes like swill. I'm committed, though, so I'm not letting the warning sway me into a generic bland white rice.
I started the rice, then began prepping the stew right away because there was a good bit of chopping that needed done. I turned my focus to the dreaded chicken legs. First they needed skinned, then cut apart. I don't skin things. I'm a lazy cooker, so I always buy my chicken skinned. But there I was, slimy chicken leg in hand, trying to separate said skin from said chicken leg without either slipping out of my hand and shooting across the room. It took FOREVER. I got the skins off, separated the bones, but needed to grab my poultry sheers to finish the job. One attempted snip and I instantly regretted the fact that I've only been using those sheers to cut open my foil bags of coffee over the past 15 years. Who knew I'd actually need them for poultry some day?
Finally got the chicken prepped and I was good to go. The stew went together like a dream. I turned back to the cooking coconut milk and realized it definitely wasn't separating. I added the coconut oil and the rice then came together as well. Easy peasy pumpkin squeezy. It was now just a matter of waiting for the simmering to do it's thing.
Shut the front door! This entire dish is fantastic! The rice is beautifully balanced with a touch of sweet and hint of coconut. The chicken and potatoes just melt in my mouth with a spice combination that's truly out of this world. This combination is going in the binder of favorites. It's one of my most successful adventures so far. Maybe I'm finally getting the hang of this!
The Recipe #1 - Sudado con Pollo
Ingredients
1 TBSP vegetable oil
1/2 cup chopped red bell pepper
1 small onion chopped
8 chicken drumsticks or 4 complete legs cut apart
2 garlic cloves minced
3 medium tomatoes chopped
1/4 tsp salt
1/4 tsp pepper
1 pound baby potatoes cut in half
2 cups chicken broth
1 tsp salt
1 tsp dehydrated garlic
3/4 tsp cumin
1/4 tsp turmeric
pinch of saffron
1/4 chop chopped fresh cilantro plus more for garnishing
avocado for serving (optional)
Instructions
In a Dutch oven or large cast-iron skillet, heat the 1 tablespoon oil over medium heat. Add ½ cup chopped red pepper and one chopped onion; sauté until onions are translucent, about 3-4 minutes.
Add 8 skinless chicken drumsticks, 2 minced garlic cloves, 3 chopped tomatoes, and season with ¼ tsp of each salt and pepper. Cook until lightly browned, often stirring, about 4 minutes.
Add 1 lb baby potatoes, 2 cups chicken broth, 1 tbsp Sazon seasoning, ¼ tsp cumin, and ¼ cup chopped cilantro.
Bring the stew to a boil, reduce the heat to medium-low, partially cover, and simmer for 30 minutes or until potatoes are tender. Sprinkle with fresh cilantro and serve with avocado slices over rice.
Notes
This Colombian Chicken Stew will be perfectly cooked and delicious after 30 minutes. Still, you can cook it for up to 90 minutes - longer cooking time will result in a more concentrated and developed flavor.
You can replace the chicken broth (stock) with water and chicken bouillon.
Use boneless, skinless chicken thighs instead of drumsticks. If you prefer, keep the skin on. You can also use chicken breast, but dark meat is more flavorful.
Add more stock or water if it gets too dry. Alternatively, cook uncovered for 10-15 min longer if it's too watery.
This stew can also be cooked in a slow cooker: add all ingredients to your slow cooker and cook for 3 hours on high or 6 hours on low.
You could also transfer your dish to the oven and cook on 375F for 30-45 minutes. Make sure to use a Dutch oven, cast-iron, or another oven-proof dish.
This stew is suitable for freezing.
The Recipe #2 - Arroz con Coco
Ingredients
1 (14 oz) can coconut milk * (full fat)
2 Tbsp coconut oil or canola oil (if needed)
2 c white rice, dry
2 Tbsp sugar
1 ½ tsp salt
3 c water
½ c unsweetened coconut flakes (to top, if desired)
Instructions
In a wide saucepan, heat the coconut milk until simmering. Reduce the heat to medium low and simmer, stirring often, until the coconut milk has reduced to the point where it becomes a thick paste and the solid coconut pieces begin to turn a deep golden brown, 50-60 minutes. (As it reduces, you will hit a point, once it is nearly reduced completely, where the coconut oil will come out of the milk and the mixture will start to separate into clear liquid (fat) and white parts (coconut solids). If, once your coconut milk has nearly completely reduced, you don't see this separation; your coconut milk has too many stabilizers in it to let the fat separate out. Add 2 Tbsp vegetable oil --or better yet, coconut oil-- to the reduced coconut milk and continue cooking until the coconut solids turn golden brown.)
Once you have a golden brown coconut paste, add the rice, sugar, and salt. Turn the heat to medium high and continue to cook until the rice grains begin to turn golden brown, 3-4 minutes.
Remove the pan from the heat and add the water carefully. (Oil has a boiling point MUCH higher than water. So when you add the water it will sputter and steam. BE CAREFUL!) Stir to combine.
Return the pan to the heat and bring the mixture to a simmer. Then, reduce the heat to low, cover and cook the rice for 15 minutes.
Remove the rice from the heat and let rest for 10-15 minutes, covered.
Fluff with a fork before serving.