The adventure: I had the privilege several years ago of visiting my artisans in Kyrgyzstan. Every time we sat down for tea, I was completely blown away by the bread...or at least I would have been had I not gained 15 pounds from having eaten said bread. They have a knack of adding simple cheese, veggies, and herbs to bread to elevate them from common place to "why yes, I'd love a fourth chunk" bread. When I found a used recipe book dedicated to nothing but breads from around the world, I felt like I hit the lottery...and possibly the need for bigger pants.
Pre-adventure Jitters: It's bread. I'm getting more confident in my bread making skills, but I find bread intimidating. I know practice makes perfect, so here we go. Armed with my recipe from "Flatbreads and Flavors" by Jeffrey Alford and Naomi Duguid, and my fat pants, the adventure begins.
The Adventure: I love when the buy list is easy. All I need is goat cheese and Gruyere and I KNOW I can get both at The Cheese House, a local store dedicated to? Mhm...cheese!!! This is so easy it's almost embarrassing.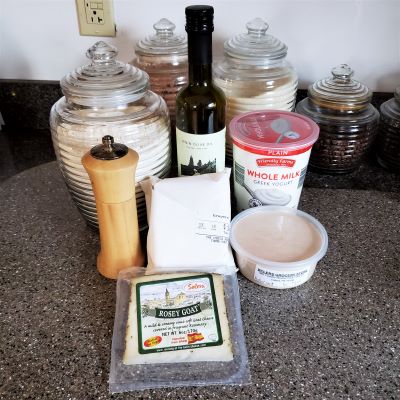 I have a trick to breads. It's summed up in two words...bread machine. I don't do the mixing, kneading, letting it rise, kneading again thing. I stick it all in my bread machine on the dough setting and let it do the heavy lifting. It's soooo much easier. Cheating, yes...but soooo much easier.
My bread machine won't handle 6 cups of flour, so I half the bread portion of the recipe and get it going. Once it's done, I cut it, press it into circles, and cover with the plastic wrap. I turn to the filling and read through things again...soft goat cheese. Awwww crap. I bought the only goat cheese they had, which was semi soft goat cheese with rosemary. It's not going to be soft and spreadable. Soooo...I do the only thing I can. I grab the food processor and shred that goat cheese down to something workable. It still won't spread like a paste, but I can spread out the crumble pretty evenly.
I decide to try the pull method for boat number one. It's supposed to look like a long oval. Annndddd it doesn't. It looks more like an amoeba on crack. Dammit. At this point, I'm not starting over, so I scatter the cheese filling on top, roll up the edges as best I can, stick it in the oven and watch as the cheese melts over the sides and makes a mess. Perfect. I took an incredibly simple recipe and made it hard. Seriously.
Attempt number two. I use the rolling pin on this one. Carefully roll it front and back only (no side to side) and I get my oval. Again, scatter the cheese filling, roll it up easy peasy, and put the bread onto my baking stone. In the oven it goes, and I count down the minutes to what I'm hoping is a flashback to Kyrgyzstan.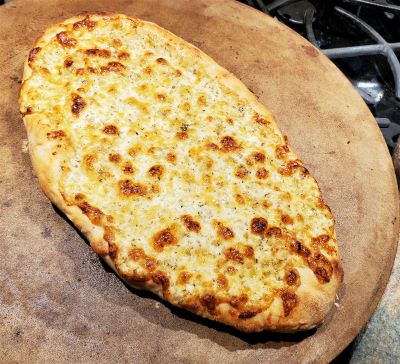 Bread comes out of the oven, and it looks PERFECT. I can't wait for it to cool off. It smells amazing, so I rip off a corner and give it a try. Oh. My. God. I am soooo gonna need those fat pants. This is one of the best breads I've ever eaten. It's exactly like the breads I ate in Kyrgyzstan. EXACTLY! The rosemary adds a touch of fun that literally dances on your tongue. My mind instantly starts thinking about what else I can add...maybe oregano next time or fried onion. The options are endless. This isn't only a win, but one I'll be making again and again. On to the next adventure!
The Recipe - Adjaruli Khachaphuri
Ingredients
For the bread:
2 cups warm water
pinch of sugar
2 tsp dry yeast
5 to 6 cups unbleached white flour or unbleached all purpose flour
1 tsp salt
1 TBSP olive oil
For the filling:
6 oz soft young goat cheese, at room temperature
1 oz Gruyere, coarsely grated
1/4 cup plain yogurt
Instructions
Place the warm water in a large bowl, stir in the sugar and yeast, and let stand for several minutes, until the yeast has dissolved. Then gradually add 2-1/2 cups flour, stirring constantly in the same direction. Stir 100 times in the same direction, about 1 minute, to develop the gluten. Sprinkle on the salt, and the oil, and continue adding flour and blending it into the dough until it is less sticky.
Turn the dough out onto a floured surface and knead for 10 minutes, until smooth and elastic, with a slight sheen. form into a ball, and place in a lightly oiled clean bowl or on a lightly floured surface to rise, covered with plastic wrap, until doubled in volume, 1-1/2 to 2 hours.
Preheat the oven to 450 degrees. Lightly oil two baking sheets.
Gently push down the dough. On a lightly floured surface, using a sharp knife, cut the dough into 4 equal pieces. Flatten each piece out with the lightly floured palm of your hand, then cover with plastic wrap while you prepare the filling.
Place the cheese and yogurt in a bowl and blend together to a smooth consistency.
Work with one piece of dough at a time, leaving the remaining dough covered with plastic wrap. With your hands or a rolling pin stretch and flatten the dough into a long oval 8 to 10 inches long, 5 to 6 inches wide, and no more than 1/4 inch thick. Place a generous 1/4 cup filling in the center of the oval. Spread to within an inch of the edges. Roll the edges over to make a thick rim, pinching the sides together to form a point at the ends. (the bread should look boat-shaped.) Shape and fill a second bread. Slide the breads onto a peel and then onto the baking sheets and place on the bottom oven rack. Bake until the crust is golden and the bottom is firm and crusty, about 12 to 15 minutes. Wrap in a towel to keep warm while you prepare and bake the remaining two bread the same way. Serve hot.