The adventure: For those who weren't aware, this past week was Dia de los Muertos...Day of the Dead. While the name may sound gruesome and creepy, it's actually a fabulous day that's dedicated to celebrating and remembering ancestors. While primarily celebrated in Mexico Day of the Dead is becoming more and more popular around the world.
Pre-adventure Jitters: They say you need a rotisserie to make these properly. In fact, the recipe writer actually suggests I buy a rotisserie for the occasion. Mhm...that's not happening. Soooo I'm making this using their second suggestion, which in reading through, seems problematic. But I'm getting pretty good at winging it, so armed with my ability to bob and weave in the kitchen, and the recipe from Mexico in my Kitchen, the adventure begins.
The Adventure: Y'all know the routine at this point. Bent n dent, local butcher, bargain grocery, standard grocery. I know I can get the soft corn tortillas at the bent n dent. Last time I was there, they had, like, 50 to 60 packs of either flour or corn tortillas. I walk in the store and gasp in horror. Somebody somewhere had a fajita party, cause they were ALL GONE! I rummage through the nearby stacks of pastas and find one solitary pack tucked to the back. SCCOOORRREEE!!! I knock off the rest pretty quick...except for the achiote paste. Waldo is nowhere to be found. Soooo I google achiote paste and find a make it yourself hack. We made Waldo from scratch!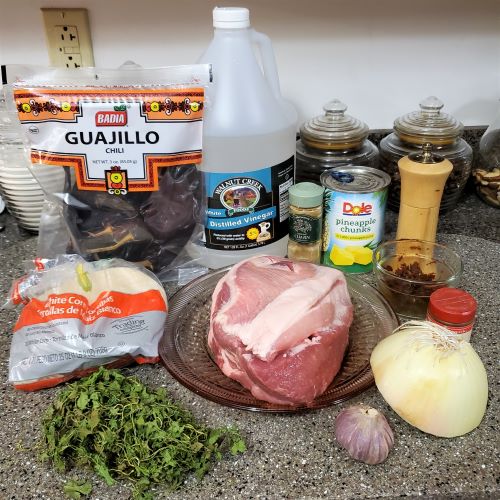 Okey dokey...this is another multi day recipe, so I start putting together the marinade to get my pork in the fridge. One of the ingredients on the list is white vinegar. Soooo to give you the visual, every time you see white vinegar in a recipe? It's kept in my basement, so I have to trudge downstairs to get it. I have a dog. Those of you who also have these fun furry creatures know how hard it is to get a dog smell out of blankets. I've discovered a combination of white vinegar and borax in the laundry takes care of the smell easy peasy. Soooo...every load of laundry gets a dose of white vinegar. Annddd every time I need white vinegar, down the stairs I go.
I clean my peppers, soak them, stick everything in the blender and zip it up. The recipe says to pour the sauce through a fine sieve to get a homogenous texture. Ah hahahaha. They made a funny. That crap ain't happening in my kitchen. Hahaha. Bring on the non-homogenous sauce.
I slice up my pork roast, thicker than they suggest...probably closer to an inch thick. Again, I don't have a rotisserie. I'm cooking as a shish kebab under the broiler, and this chic isn't trying to get a 1/3" thick piece of pork onto a skewer. That's how you end up in the emergency room with a skewer slice to the hand...rumor has it. (wink wink).
I slather my pork slices up in my lumpy sauce, trying so hard not to be repulsed by the slime factor, and place it in the fridge for an overnight soak. Then I fry up the fat chunks I cut off my pork roast and give my pup a treat. Mhm...she's soooo spoiled. :)
Alrighty...it's day two of my adventure! I open the fridge door and catch an insanely robust hot pepper and paprika smell. Hooboy...this doesn't bode well. Heat up the oil in the fry pan and check out my pork steaks. The recipe says to scrape the extra marinade off...which as you may recall is quite lumpy. I try to scrape with my fork, then a spoon...no dice. That crap isn't going anywhere. Soooo I pick up the first steak and use my fingers to basically squeeze off the marinade. Mhm...slime factor...don't try this at home kids, it's pretty gross.
Things suddenly just fall into place. As my second batch of steaks are frying, I cut the first 3 into cubes, stack them up with pineapple and onion onto the skewers, and throw them under the broiler...7 minutes on a side...turn twice. As it nears the 7 minute mark, I catch a waft of hot wood. Crap...I need to get those flipped quick! The only skewers I own have wooden handles...so...yeah. There's a fine line between broiled meat and flaming skewers. Haha!
I finish frying the last batch of steaks and dump in the rest of the can of pineapple and the sliced onion into the empty pan. Now that all the meat is cooked, the frying pan is absolutely coated with ooey gooey guajilllo / paprika / pork bits. I want my cooked topping to caramelize in those bits. I know, it's not exactly what the recipe says, but I've already veered away from the instructions, so why not embrace my creativity. Everything finishes together and I load up my tacos. It's the moment of truth.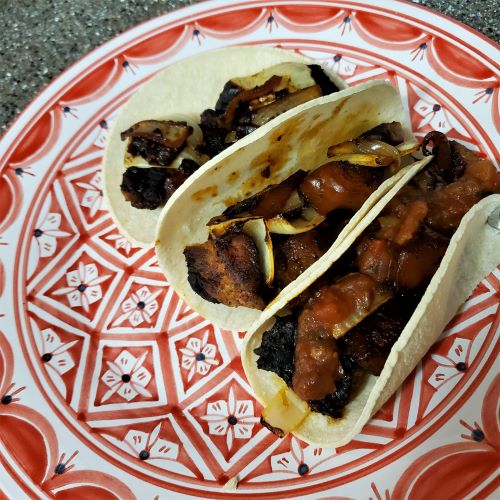 Shut the front door! Ahhhmmmaaazing! Seriously. The guajillo is more of a smoky flavor, not hot at all and the combination of the pork, the onion, the pineapple, and the salsa literally play music in my mouth. Based on the number of steaks I got out of my roast, I'd estimate this recipe serves a family of 10. Looking at how much I just plowed through? Mhm...I'm the equivalent of a family of 3. Lol! This recipe is definitely a keeper. It takes a substantial chunk of time, but it is oh so worth it. On to the next adventure!
The Recipe - Tacos al Pastor
Ingredients
For the marinade:
1 oz. guajillo peppers cleaned and seed removed About 4 peppers
1 oz. achiote paste
¼ cup pineapple juice you could use the juices from the sliced pineapple can
¼ cup white vinegar
3 garlic cloves
1 teaspoon Mexican oregano
½ teaspoon ground cumin
¼ teaspoon ground black pepper
2 cloves
1 ¼ teaspoon salt
For the tacos:
2 Lbs. pork butt Shoulder cut in ⅓ inch steaks
Salt and pepper to season the meat
1 medium size white onion cut in slices
1 can of pineapple rings
1 medium size bunch of cilantro washed and finely chopped
1 medium size onion finely chopped
12 Corn tortillas
A good spicy salsa of your choice
Instructions
Place the peppers in a saucepan and cover with water. Simmer over a medium heat for about 15 minutes or until they look soft. Let them cool and drain.
Place peppers, vinegar, pineapple juice with the spices and achiote paste in your blender. Process it until you have a very smooth sauce. Pour the sauce slowly through a fine sieve to get a nice homogenous texture. At this time, taste the sauce just to make sure the salt is enough for your taste.
Season the meat with salt and pepper. Place the sauce and steaks in a large bowl and marinate the meat or use a pastry brush and apply the sauce to each side of the steaks.
Marinate for at least 4 hours or overnight of hours (believe me it tastes way better), and then grill the steaks or fry in a skillet. Grilling some pineapple and onion slices along the meat to add to the tacos when serving. When cooking in a skillet, remove any excess adobo sauce since it will stick to the pan.
Now for the cooking process:
To cook in the Vertical Rotisserie stake the meat intercalating with some slices of onions and pineapple. Let any marinade drain for about 20 minutes before starting the timer. 1 Hr. is enough to cook 2 pounds. Shave the meat with a sharp knife and place it in an already warm skillet to give it that crisper taste as they do at the taquerias in Mexico.
The second option is using the broiler of your oven. Cut the meat as for Kabobs and insert into the skewer placing onion and pineapple slices between the meat. Since the meat is cut in smaller portions this method will take about 20 minutes to cook rotating at least 2 times while cooking.
Now, this is the easiest since almost anyone has a frying pan or skillet at home. Once your meat has marinated cut in small fine strips. Make sure to remove any excess adobo sauce. Warm the frying pan and add 1 – 2 Tablespoons of oil until hot enough that when you place the meat it sizzles. Add onion and pineapple slices along the meat to cook. Turning as needed to avoid the meat to stick to the pan. Cook for about 12 -15 minutes.
Slice the meat finely and make your tacos with warm tortillas. Top with chopped onion and cilantro, pineapple, and a salsa of your choice.