This week's adventure: As the world celebrates Columbus Day, there are a handful of nations who approach the day with a completely different point of view as they celebrate National Indigenous Resistance Day. They mark the day with appreciation for the indigenous people who stood up against the explorers on their arrival. Venezuela is one of those nations. Sooo in honor of National Indigenous Resistance Day, we're making Bollos Pelones from Venezuela.
Pre-adventure jitters: Ummmm...so this recipe literally translates as hairless buns. As intrigued as I am about a meat stew dumpling, I just can't the name out of my head. I mean, if this is a hairless bun, is there a recipe out there for hairy buns? And if there is, would you actually want to try it? The hairless state of my buns aside, I've attempted boiled dumplings once before in a previous adventure and it DID NOT GO WELL. Buuuttt here we go. Armed with my recipe from Mommys Home Cooking (and my barber sheers in my pocket) the adventure begins.
The adventure: I have to say, I'm definitely now finding my shopping groove with these adventures. I make a list, start at the bent n dent to see what I can cross off, then stop at the Amish produce stand, then the discount grocery, then the standard grocery store, and lastly any specialty stores. This recipe took all 5. One ingredient, however, put a chill in my heart...the capers. I have failed completely to find capers in the past, so I just knew I was venturing out on a Where's Waldo episode that very well might end up in failure.
I start at the bent n dent...find most of the canned goods as well as the broth. I poke around in the canned beans (cause I needed to restock my stash of beans for making chili) and there it is! One single little glass jar of capers. I quickly grab that bad boy and check the use by date, mentally repeating my bent n dent mantra, "Please don't be past due. Please don't be past due. Please don't be past due." The date is in 2022. Shut the front door!! I friggin found my capers! I AM A ROCKSTAR!!! I now know I'm for sure making my hairless buns. get my onion and pepper at the produce stand, the ground chicken and cilantro at the discount grocery, the leeks and queso fresco at the grocery, and the wine at the State Store. The wine took a bit longer than I thought, cause, well, my favorite vodka was on sale, so I couldn't walk out with just the wine, now, could I?!?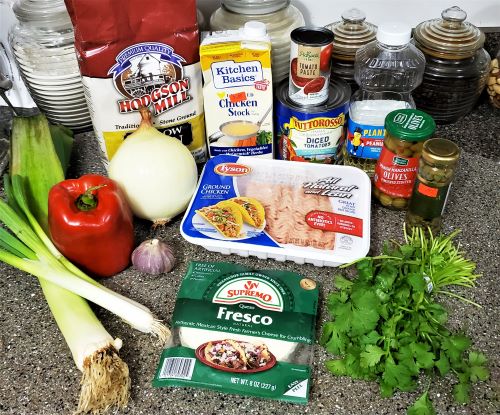 I get everything cleaned, chopped and ready to go. The recipe is incredibly well written and seemingly straight forward. I start out with my stuffing. It cooks up quickly and tastes delicious! I move on to the sauce. It says to use a small sauce pan, so grab my small pan, cook my onions, go to dump in the tomatoes annnddd it doesn't fit. (sigh). I rummage through the clean pans drying in the sink to find my second standard size sauce pan, dump the tomato mixture into the bigger pan and keep going.
It's time for the dumplings. I feel this incredible sense of dread as I make the cornmeal dough. I leave it sit for 5 minutes as instructed annndddd it's still like soup. (sigh) I add another cup of cornmeal, leave it sit another 5, and try again. It's workable! It's actually rather easy to make the dumplings. I go into the cook feeling confident that I've finally mastered the boiled dumpling.
The water comes to a boil, so I turn it down as instructed and drop the first 7 dumplings in. I gently boil for 10 minutes...they don't float. I boil another 10...still no floating. Go for yet another 10 and they're still sitting on the bottom of the pan. Dammit. I grab my slotted spoon, scoop under one of the dumplings to check things out annnddd it breaks apart before my very eye. Oh for Pete's sake. Why do I always muck up dumplings?!? Maybe 4 of the 7 are salvageable, so I set them to the side and try to find a work around for the remaining dough.
I decide to flatten them slightly and fry them. I fry for 4 minutes on the first side, flip, and they hold together beautifully. I have a solution!! We're officially scrapping the boiled buns and frying those bad boys! I plate the dumplings...two boiled and two fried. Spoon over some tomato sauce, crumble cheese, and toss on some cilantro.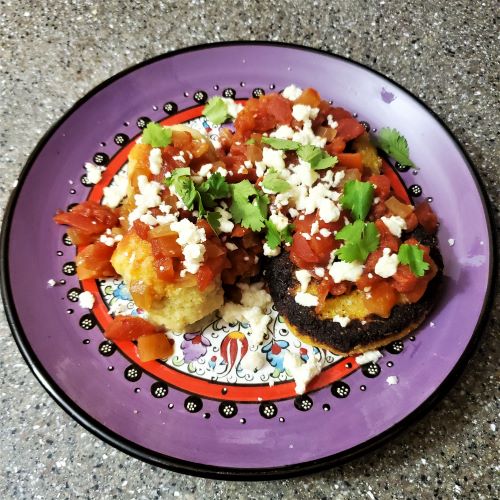 I start out by tasting the boiled dumpling. It gets a yuck, gotta say. They're gelatinous in texture, which is really gross for me. Mhm...not just in dumplings. I don't eat kiwi or jello either. Slimey is a hard no for me. I move on and try a bite of the fried dumplings and...well...they're okay, but not fantastic. So here I am, two dumpling attempts and two dumpling failures. I won't be saving this recipe to make again, truth be told, but I can't wait to try the leftover stuffing in a taco shell!! It's gonna be soooo good. It may be a failure, but I'm glad I tried, and I'm on to the next adventure!
The recipe: Bollos Pelones
Ingredients
Stuffing:
2 tablespoons of corn oil
1 cup of onion, finely chopped
3 clove of garlic, minced
1/2 cup of green bell pepper, diced
1/2 cup of leeks, sliced (white and pale-green parts only)
1/4 cup of scallions, sliced
1 lb ground beef
Salt and pepper to taste
2 tablespoons of tomato paste
4 tablespoons sweet red wine (I used Marsala)
23 -25 green olives stuffed with red pepper, sliced
3 tablespoons of capers, drained
Sauce:
2 tablespoons of corn oil
2 cups of onion, chopped into small pieces
1 can (28 oz) of diced tomatoes
Salt and pepper to taste
Dough:
2 1/2 cups of chicken broth, warm
3 cups Harina PAN
2 tablespoons of corn oil
8 oz of queso fresco or queso para rallar, crumble (opcional),
Instructions
Prepare the filling: Heat the oil In a medium saucepan over medium-high. Saute the onion until translucent. Add the garlic, pepper, leeks, and scallions; cook 5 minutes. Stir in ground beef. Using a wooden spoon break the meat and season with salt and pepper to taste. Cook until it's no pink, about 5 minutes. Add the tomato paste, wine, olives, and capers; mix well until everything is well combined. Adjust salt and pepper, if necessary. Reduce heat to low and simmer for 10-15 minutes, or until most of the liquid has evaporated. Remove from heat and set aside.
Prepare the sauce: In a small saucepan add the corn oil. Saute onion until transparent; about 3 minutes. Add the diced tomatoes and season with salt and pepper to taste. Cover and simmer for 20-25 minutes. Remove from heat and set aside.
Prepare the dough: Mix chicken broth and Harina PAN until has no lumps. Let stand for 5 minutes then add the corn oil and knead until smooth. Divide the dough into 14 equal-size balls. Set aside.
Assemble: Take a ball of dough and make a hole in the center with your finger, big enough to place the filling. Add 1-2 teaspoons of the filling. Close bringing the edges together carefully with your fingers. Re-form into a ball again. Repeat until all the dough is finish.
Cook: Fill a large pot halfway with water. Bring it to boil over medium heat high heat. At first boil reduce the heat to low. Place the stuffed dumplings in the hot water and cook about ten minutes. You'll know when they ready because they'll float. With a slotted spoon transfer them to a serving dish.
Top with tomato sauce and fresh cheese (queso fresco), if desired, and serve immediately.
Notes
You can make the stuffing and the sauce the day before.The stuffing should not be too juicy because it could soften too much the dough and could fall apart when cooking.If you want you can substitute beef for ground chicken or turkey for a lighter version.