This week's adventure: We're heading to Somalia! On July 1, 1960, British Somaliland and Italian Somaliland were reunified and declared their Independence. The two territories, after 70 years of being divided, became the Somali Republic.
I choose my recipes one week ahead, so I have time (theoretically) to get my groceries ahead of time annnddd to allow for the extra running that I seem plagued by. The Sunday before this adventure was Father's Day. So...I let my dad choose the recipe. I gave him the short list of finalists, trying to gently nudge him to the one I really wanted to try. He wasn't having it. My dad wanted rice. Sooo rice he shall have. I'll be making Bariis Ishkukaris, a very common rice dish. The recipe I'm using is vegetarian, so after doing a bit of research to ensure the dish is as authentic as possible, I'll be adding a bit of sliced chicken at the end.
Pre-adventure jitters: Not a one. It seems very straight forward. Annnddd this in turn, now gives me the jitters, because we all know I'm gonna muck something up...or that hot oil will shoot something across the room....or that I zig when I should have zagged. Crap. Now I'm jittery because I wasn't jittery. I'm missing something. Surely this isn't going to go well. There's always a wrinkle. Armed with my recipe from Tasty.co, the adventure begins.
The Adventure: The grocery list is short, so this should be easy. I stop at store number one, annnddd there aren't any red peppers. Seriously? There are green ones, orange, yellow, but no red. So I venture to store #2, take a scan around the produce section and way over in the corner I see one. Just one. I speed up my pace, looking left and right to make sure no one else is making a bee line...cause that bad boy's mine. I will seriously elbow someone away from my pepper at this point. I reach my prize and it is the ugliest pepper I've ever seen. Seriously awful, but it's getting cut up and to quote my dad, "My stomach won't know the difference". I am now set with my ingredients!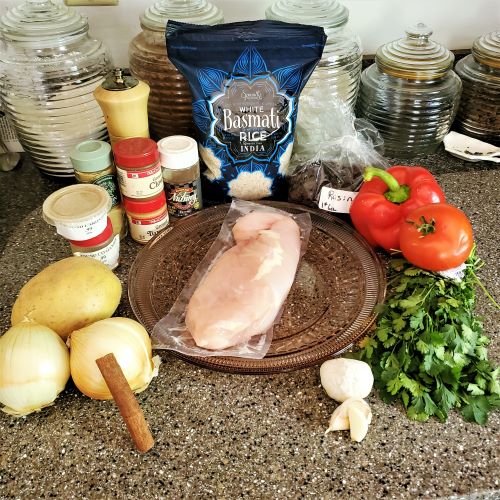 I start my rice soaking and go run some errands. I'm already loving the fact that I can literally walk away for the first hour of the adventure. Come home, prep my veggies, mix up my xawaash, and heat up the pan. Everything comes together perfectly. Seriously. No issues at all. I toss it in the oven and start cutting up potato, onion, red pepper, and chicken. I make my last cut at the moment the rice is ready to come out of the oven. Toss in the raisins, cover, and heat up my fry pan of oil. I was a little hesitant to get started after the ginger bullet episode several weeks ago, but the fry went just fine.
Shockingly, all my alterations worked beautifully. I skipped the veggie stock cube and added 2-1/2 cups of hot chicken broth instead. Annddd skipped the food coloring. I know you eat with your eyes first, but these eyes would freak out my brain as I'm eating. I'm not big on the artificially colored food thing. I like my frosting white, my meat without the red dye additive, and my lemonade clear. No need for added color simply for the sake of color. Except for light brown M&M's. Those were fantastic. I don't care what they say, they definitely tasted different. That FD&C # whatever it was to make light brown M&M's was a masterpiece of nature...or a food lab.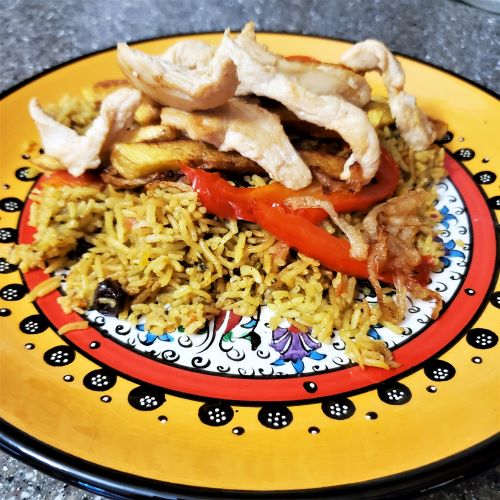 I plate my dish and take the first bite. YUMMMM! The flavors work beautifully together. The rice is soft and flaky without being soggy and the raisins are wonderful! I doubted the wisdom of raisins in pilaf, but it's truly a perfect compliment to the spice blend. I'll definitely be making this again! Future versions won't have the potato. It didn't add much to the dish, in my opinion, so I'm all for making it a bit quicker and keeping only the parts I truly loved. On to the next adventure!
The Recipe - Bariis Ishkukaris
Ingredients:
XAWAASH
1 tablespoon ground cumin
1 tablespoon ground coriander
1 teaspoon ground turmeric
1 teaspoon ground cardamom
1 teaspoon black pepper
¼ teaspoon ground cloves
¼ teaspoon nutmeg
RICE PILAF
¼ cup vegetable oil
1 medium yellow onion, thinly sliced
3 cloves garlic, thinly sliced
1 small tomato, diced
1 cinnamon stick
salt, to taste
1 vegetable stock cube
¼ cup fresh cilantro, chopped
1 tablespoon xawaash
2 cups basmati rice, soaked for at least 1 hour and drained
2 ½ cups hot water
1 drop red food coloring, mixed with 1 teaspoon of water
3 drops orange food coloring, mixed with 1 teaspoon of water
¼ cup raisin
RICE TOPPING
1 large russet potato, cut into 1/4-in (6-mm) thick matchsticks and patted dry
⅛ teaspoon orange food coloring, mixed with 1/2 teaspoon of water
oil, for frying
1 medium yellow onion, thinly sliced
½ red bell pepper, sliced
1 large chicken breast thinly sliced (not in original recipe)
Directions:
Preheat the oven to 350°F (180°C).
Make the xawaash: In a medium bowl, combine the cumin, coriander, turmeric, cardamom, black pepper, cloves, and nutmeg. Set aside.
Heat a medium oven-safe pan over medium-high heat. Add the vegetable oil, onion, tomato, garlic, and cinnamon stick. Cook until the onions have softened slightly, 5-6 minutes.
Season with salt, then add the vegetable stock cube and cilantro. Cook for 1 minute, breaking up the stock cube.
Reduce the heat to medium, then stir in the xawaash and soaked rice. Cook for about 3 minutes so rice grains lightly toast.
Pour in the hot water and increase the heat to high to bring to a boil. Cover the pot, transfer to the oven, and bake for 20 minutes. Check periodically to be sure the rice has enough water.
Remove the cooked rice from the oven and drizzle the red and orange food colorings on top. Gently mix so there are different colored grains.
Sprinkle the raisins over the hot rice, cover, and set aside.
To prepare the topping, mix the potatoes with the orange food coloring in a medium bowl (wear gloves to avoid stained fingers!).
Heat about 1 inch ( 2 cm) of oil in a large heavy-bottomed saucepan. Add the potatoes and cook for 5-6 minutes, then transfer to a baking sheet lined with paper towels to drain the excess oil.
In the same oil, fry the onion slices until browned and crispy, 2-3 minutes. Add the red peppers cooking for an additional minute. Drain on paper towels.
While the veggies are draining, add the chicken to the hot oil (be careful of spatter) and cook for 5 to 6 minutes, until lightly browned.
To assemble the rice, transfer the pilaf to a large serving platter. Top with the fried potatoes, crispy onions, and red bell peppers.